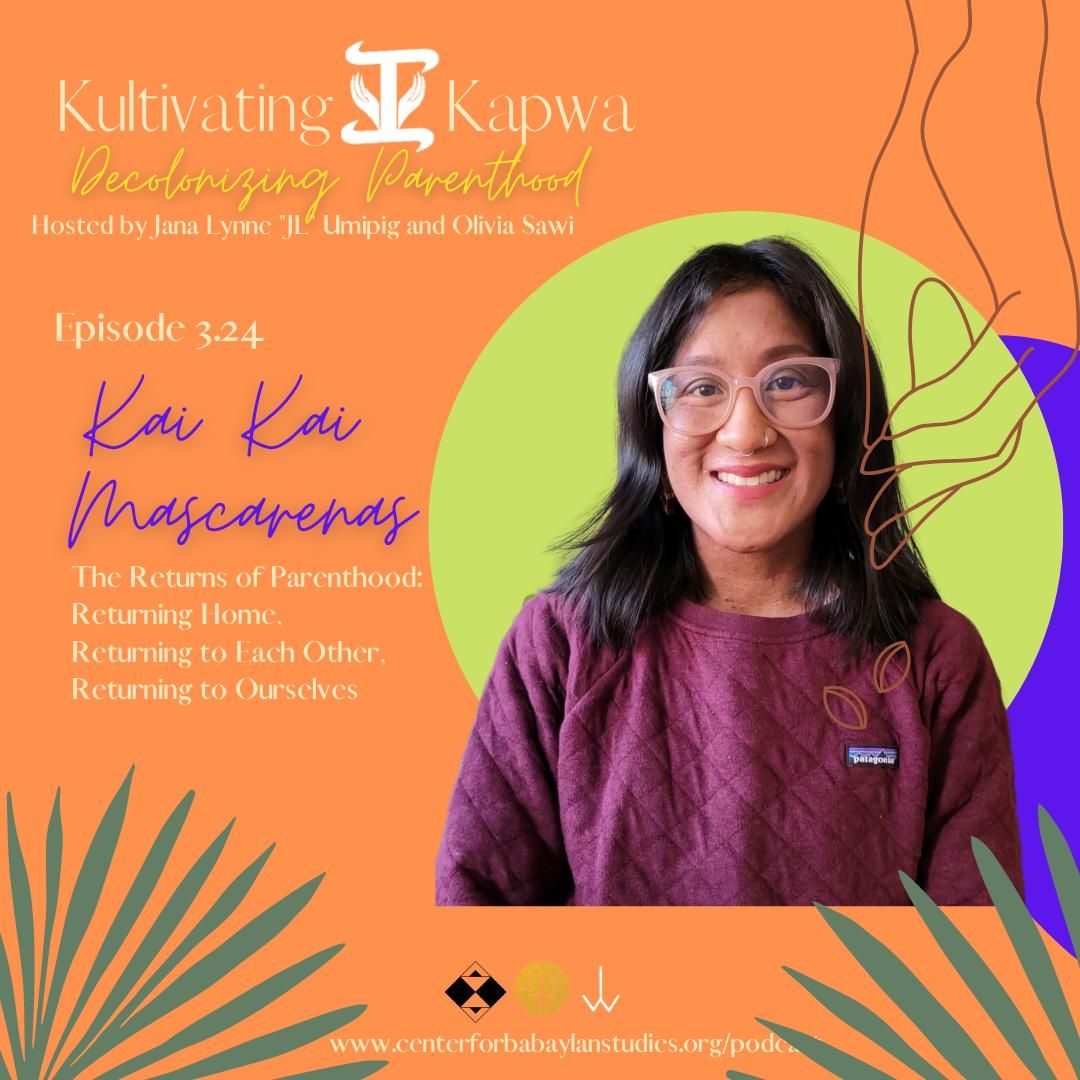 Kultivating Kapwa: Decolonizing Parenthood Episode 3.24
"The Returns of Parenthood: Returning Home, Returning to Each Other, Returning to Ourselves"
In this episode, we are joined by Kai Kai Mascareñas. We discuss raising a child in community, her process of learning how to claim her needs and boundaries surrounding her child, tending to her child while being chronically ill and disabled, and more.
Kai Kai Mascareñas (she/they) is a queer, chronically ill + disabled, organizer and educator, and most importantly, mother to Diwa Uju Kalayaan Mascareñas-Lee (28 months old). Born and raised on the ancestral homelands of the Potawatomi people (Chicago, IL), Kai Kai is now based in Washington, DC, which sits on the ancestral lands of the Anocostans (Nacotchtank), and over time neighboring the Piscataway and Pumenkey peoples. Kai Kai is the daughter of Angela "Ging" Agustin and Ramon Mascareñas, and granddaughter of Salome and Procopio Agustin of Bicol and Bulacan, and Josephine and Benjamin Mascareñas of Nueva Ecija and Marinduque. Kai Kai is currently the Program Coordinator of the Asian American Studies Program at the University of Maryland, College Park, where they engage and support the largest racial minority group on campus. Kai Kai is dedicated to fighting for national democracy in the Philippines and is a founding member of DIWA - the DC chapter of the International Women's Alliance, a global alliance of grassroots, anti-imperialist women's organizations. Kai Kai finds joy in movement, dreams about a future in herbalism and body work, and is excited to begin her martial arts journey in kali. 
*Episode Notes: This episode contains brief instances of profanity.*
You can listen to this podcast on the Center for Babaylan Studies website (centerforbabaylanstudies.org/podcast), Spotify (https://tinyurl.com/KultivatingKapwaSpotify), PodBean (centerforbabaylanstudies.podbean.com), Google Podcasts, or Stitcher. 
Make sure to subscribe wherever you listen to the podcast! If you want to contact us, email kultivatingkapwa@gmail.com, or add us on Instagram at @kultivatingkapwa and send us a DM. If you would like to donate to help us continue this podcast, please do so here: donorbox.org/kultivating-kapwa-podcasts.
Hosted by Jana Lynne Umipig//
Produced by Olivia Sawi//
Co-Produced by Annie Aarons-Sawi//
Music by AstraLogik